Published in 2007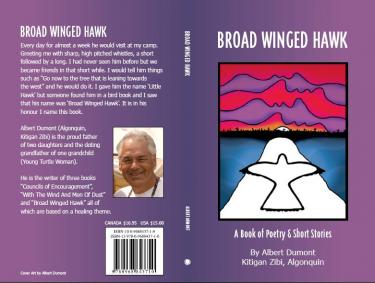 Broad Winged Hawk is a collection of Albert's poetry on the wide range of joys and challenges we navigate on our Life's Journey. Love, the seasons, trauma, healing, our relationship with Nature, are all found within these pages. Below is a poem to honour a traditional teacher.
From the Blood of my Heart
In the blood of my heart
Are found the words
Of the spirit language
In the blood of my heart
There are many songs
Of good medicine for The Peoples
In the blood of my heart
Are gifts from Great Spirit
And I honour them
In the blood of my heart
As old as time
Are rituals of teaching
And I pray
My mind to know them
O Great Spirit
Who made all things
That are good in life
Hear my words of thanksgiving
Hear my chant
From the blood of my heart
sale price $15 plus shipping (regular ($16.95)
To order, please send an email to: info.albert.dumont@gmail.com
Also available in Ottawa at Singing Pebble Books, 202A Main St.
Also available online at goodminds.com. GoodMinds.com stocks over 3,000 Indigenous titles from Preschool to Adult.
Or place your order through PayPal by clicking "Add to Cart", below.