Did you know that the lamb of the senate, Patrick Brazeau, was once a contender? It's true, the lamb agreed to duke it out with a fighter half his size named Trudeau, even putting his pretty locks on the line. "If I lose, shear me," declared the lamb. But the lamb was confident in victory. He boasted to one and all of his extraordinary fighting skills. To hear him tell it, his hands are lethal weapons. He would render Trudeau unconscious with a few chops, lamb chops I presume. It would all be just too easy. The lamb would become the undisputed "Rocky" (or is that "Rocker"?) of the senate. Whatever!
The lamb held press conferences and predicted, "I'll knock Trudeau senseless." Being knocked "senseless" was something the lamb did not have to worry about.
An oldtimer and veteran of many a fistacuff told me once that having confidence in your fighting skills was half the battle. The lamb was more confident in winning this fight than anyone I've ever seen in my life. But the smaller, wiry Trudeau was too much for the porky lamb. He got winded, his punches weren't landing, wherever the lamb's head went, Trudeau's fist was sure to go. One of Trudeau's blows landed so perfectly that the impact of it sent the lamb's head kicking back, his face looking like a panicked pillsbury-dough-boy trying to prevent himself from being sucked into a shopvac. The stocky lamb was done like supper. The "fight" or perhaps the "slaughter" was mercifully stopped so the lamb would live to tell the tale.
The lamb had been silenced. For all his bragging the lamb turned out to be just another windbag, full of hot air, useless and impotent in the fight game.
I was overnighting in Kingston for my work at Millhaven Penitentiary when I wrote the words, above, about Brazeau's antics from last year. I wanted to prompt a chuckle or two and highlight that we should not pay any mind to his attacks of Chief Spence and the Idle No More movement.
But this blog has taken a serious turn. The news broke the next morning that Patrick Brazeau was charged with sexual assault and domestic assault. I immediately asked myself, what have Brazeau's "lethal" hands been up to? I feel sad that someone has suffered. I hope the extent of their pain is not so great that they will be prevented from finding the strength to recover from it as soon as possible. Violence is always so wrong.
Let us keep anyone who experienced trauma in Brazeau's house in our prayers. Pray that the healing love of their relatives will see them through and beyond this upsetting moment in their life. Brazeau too, if he is guilty of a crime and if he is remorseful for any pain he has caused has a birthright to take his place in a healing circle. No one can push him from it.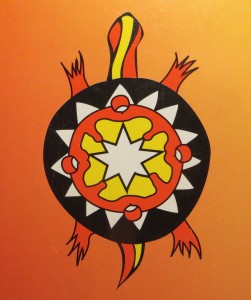 Keep the Circle Strong,
Albert "South Wind" Dumont.
- My next post is about what we can do to end violence against women -