Poetry is the raging rapids and it is the little fish which doesn't give up until the turbulent waters are behind it. Poetry is purpose, renewal and rebirth. sitting by the rapids is all of this and offers insight into the mind of an Indigenous man who lives with severe chronic pain and who found the strength through spirituality and poetry to put a life of alcohol abuse behind him forever.
Albert writes of Sitting by the Rapids: "The ancestors, living at the time of European contact had a way with words. Poetry spilled effortlessly from their lips because the spirit of the land guided their words. I take seriously my belief that medicine of extraordinary healing power is found in the verses of a poet who puts words together for the purpose of bringing peace and serenity to people in want of it. The counsels and poetry of a person living with pain are special and more meaningful to an individual in the throes of heartache."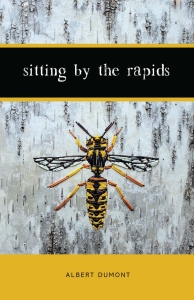 Price: $15 plus shipping
Place your order through PayPal by clicking "Add to Cart", below. You can also send an email to info.albert.dumont@gmail.com
This unique book is trilingual, written in Algonquin, English, and French. Maple Leaves is a special gift for any child, and can be used to help teach the Algonquin language. The lovely illustrations help convey an important anti-bullying message to today's children.  No home or classroom should be without it!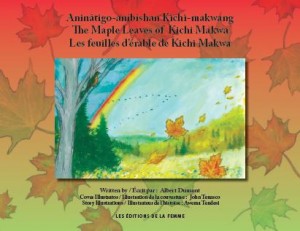 From the back cover: "The storyteller of today must create powerful tales and legends now, which will help the people of the distant future keep their diminishing human emotions strong, while living their lives in the smoky-grey fog of advanced technology." Maple Leaves is Albert's humble contribution to this cause.
To Pick Up Books in Ottawa
Available at the regular price at Singing Pebble Books, 202A Main St. and at Books on Beechwood, 35 Beechwood Ave.
Or send an email to info.albert.dumont@gmail.com.
To Order 10 or More Books
Send an email to info.albert.dumont@gmail.com.
Published in 2011. Second Edition printed in 2017. Regular price is $30.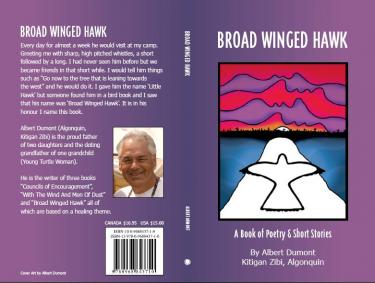 Broad Winged Hawk is a collection of Albert's poetry on the wide range of joys and challenges we navigate on our Life's Journey. Love, the seasons, trauma, healing, our relationship with Nature, are all found within these pages. Below is a poem to honour a traditional teacher.
From the Blood of my Heart
In the blood of my heart
Are found the words
Of the spirit language
In the blood of my heart
There are many songs
Of good medicine for The Peoples
In the blood of my heart
Are gifts from Great Spirit
And I honour them
In the blood of my heart
As old as time
Are rituals of teaching
And I pray
My mind to know them
O Great Spirit
Who made all things
That are good in life
Hear my words of thanksgiving
Hear my chant
From the blood of my heart
Sale price $15 plus shipping (regular $16.95)
To order through PayPal, click "Add to Cart" below. You can also send an email to info.albert.dumont@gmail.com.
With the Wind and Men of Dust – SOLD OUT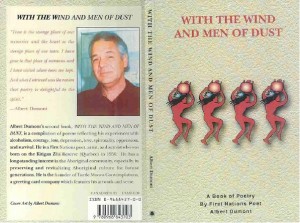 Councils of Encouragement – SOLD OUT
Copyright Albert Dumont. All rights reserved.
Nothing may be copied without the written permission of the author.
Last Update – 28 December 2018