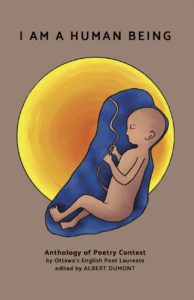 The inspiration for this book began in August 2021 as a poetry contest by Ottawa's Poet Laureate Albert Dumont to promote poetry. The theme for the contest was 'I AM A HUMAN BEING'. This book is a compilation of poems submitted by 86 poets. Among them are 24 students from the Kitigan Zibi School and 27 students from the Ottawa Catholic School Board (most of them first-time poets).
All proceeds generated from sales of this book will go towards promoting poetry as medicine, bringing healing to those finding themselves in emotional distress.
Price: $20 each plus shipping
Place your order through PayPal or credit card by choosing the quantity and clicking "Add to Cart", below. You can also send an email to info.albert.dumont@gmail.com or pay via e-transfer to turtlemoons13@yahoo.com
Available in Ottawa at Singing Pebble Books, 202A Main St.