THE CANOE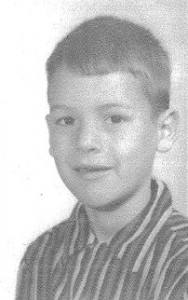 The Time
1959. One year before First Nations People were finally accorded the "right" to vote in a federal election, by the Government of Canada.
The Place
A classroom of 25 children, all save one, are of European ancestry. A boy aged 9, is of Algonquin First Nations bloodline.
The Memory
School teacher to the Algonquin boy, "What are Indians good for?" The boy puzzled as to why this question is being posed by the teacher, for a moment does not know how to answer. But then he remembers his father commenting that the Algonquins were the best builders of birchbark canoes.
"They make the best birchbark canoes," he tells the teacher.
The next day the teacher, without warning drops a sheet of birchbark, approximately 12 by 20 inches in length on the boy's desk. With the birchbark she places scissors, glue, stapler and staples and scotch tape and then tells him, "There you go, yesterday you told us that what Indians were good for was the making of a birchbark canoe. Make us a canoe."
The boy not understanding what was happening, obediently began to construct a canoe. He cut the bark, this way and that way, he stapled here and he stapled there and then sealed things up with glue and scotch tape. He had tried his best but the canoe he fashioned was less than remarkable and he knew it. His heart was heavy as he handed the canoe to the teacher.
She took it from him and motioned him to go with her to the front of the class. "Listen everyone," she said in a loud voice, "yesterday we were told that what Indians were good for was the building of birchbark canoes. Well now, how would you like to find yourself in the middle of a river in this thing," and then holding the canoe high she said, "you would sink like a rock."
The teacher and every child in the room laughed and laughed and just when the boy thought they had tired of their laughter they laughed some more and all the First Nations boy could do was stand there sad and bewildered as to what was happening.
47 years later, the boy, who is now a man who can boast eighteen years of sobriety is sitting in a cafeteria with a new-found friend. He tells her of the experience with the teacher and the canoe which took place those many years in the past.
Friend: "Do you forgive the teacher?"
Man: "No, I do not."
Friend (very surprised): "Why?"
Man: "The teacher attacked a child, her purpose for doing so was to break his spirit and to make him ashamed. The child was in the springtime of his years, forgiveness should have been asked from him at that time."
Friend: "And you cannot forgive her?"
Man: "I have children and a grandchild who love me. My world is unfolding in a good way. This incident from my past is not something I carry around like a ton of bricks. As far as I can see the forgiving of the teacher is not necessary for me. I move forward in life and while doing so contribute to the wellbeing of my family and my community. I have confidence that this ugly memory will have justice when the teacher begins her journey into the spirit world."
Friend: "What if the teacher came to you now and asked you to forgive her?"
Man: "If one day I were to find the teacher at my door asking me to forgive her, I would ask that she sit with me in a healing circle. I would tell her how the incident with the canoe was only the first of many such experiences I faced that pushed me towards a life of alcoholism. But if the teacher was truly remorseful for the part she played in creating a world of misery which for me lasted many years, then yes I would forgive her. The healing energy and the spirit of the circle dictates that healing and forgiveness will always be found there."