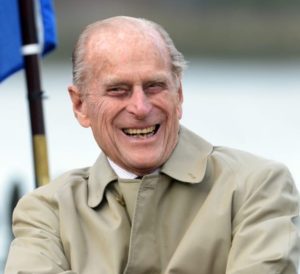 It was at the time of the Flower Moon, the last moon of spring season, as feasted by the Algonquin Anishinabe that the Duke of Edinburgh took his first breath as a human being. Spring, a fitting season for a man to be born who would work, for many years, to preserve the health of lands, such as those found where wildflowers grow.
In the centre of the Fasting Circle a human being grows greater in wisdom after days without sustenance. A spirit comes forward to direct the ceremony's participant to honour all people of this world who take a bold stand to rid sacred Mother Earth of the pollutants slowly killing our waters along with poisoning the winds we bring into our lungs. The spirits of the hawk and buffalo, the sturgeon and the pine tree also send forth their blessings to the side of any person who, like the Duke of Edinburgh, act in defence of all things the Good Spirit placed before us so we, as human beings could live well.
The wisdom of the mature human heart speaks to the older people each day of the duty they have to their next generations. It instructs them to point the youngsters towards many challenges and opportunities allowing the youth to grow stronger in mind, body and spirit. To be kind and generous, to be courageous and above all else, to be honourable – these are the teachings the Duke of Edinburgh hoped the young people of the Commonwealth would embrace and bring fully into their identities as contributing members of their nation.
The Duke of Edinburgh was to his Queen what an island rich in healing energy is to a weary traveller on the Great River of Life. By her side he was for her that place she could rest and regroup, a place for her to rediscover a lost trust offered only by the rarest of sanctuaries. To the Queen he was as the tall pine tree we see on the horizon who graciously allows the rising moon to rest awhile on its branches.
Now that the Duke has been received into the eternal embrace of his ancestors and after the honour song they sang to welcome him among them has brought immense joy to his spirit, he will step forward to enter into sacred council with them. The Duke of Edinburgh will speak in the circle about his years on the ocean where as a young man he put his life in harm's way in defence of the honour of his nation. He will tell of his visits to Turtle Island (Canada) and the friendships he made with the First Peoples. The memories the Duke of Edinburgh has of our Chiefs and of our lands will bring greater peace and joy into his eternal home. May Creator bless the Duke of Edinburgh for the good work he did in the name of mankind.
South Wind