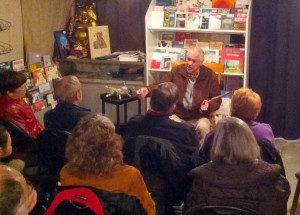 I shared poetry and memories with a nice group of people on Saturday, March 16th, at Singing Pebble bookstore. We had a good time and I appreciated the feedback.
But the strange thing, I'm more comfortable these days speaking to an audience made up of offenders in a maximum security prison than I am with the community's law-abiding citizens. I guess I'm in 'Millhaven mode' and it can't be shaken off as easily as my old dog used to shake off snye* water after he'd been chasing muskrats in it for all the hours of the forenoon.
Developing a style of communication that the boys in Millhaven's J Unit could understand wasn't easy. A lot of pre-thinking had to be done first. I had to be prepared to respond in a sensible, unbiased way to any question or opinion thrown out by them regarding something I said about justice and rehabilitation. I had never been at a loss for words in my life before working at Millhaven and I wasn't about to start at its steel doors.
A lot of the memories I shared on Saturday were from my childhood. The formative years. Poetry in the making. A young heart being tested. Would my spine be made of jelly? And the chip life put on my shoulder back then, how would I remove it? A chainsaw came to mind but I didn't need it. Spirituality was the answer. The real stuff. To honour and acknowledge spirit. What is more simple than that? What is more serious than that?
I told many stories on Saturday and recited a few poems. I hope that at least one person in the audience left Singing Pebble bookstore with a song in his/her heart. A song which stirred the soul, even a tiny bit, enough at least for it to whisper to the person it is attached to: "Hey you, wake up. Spirituality is important."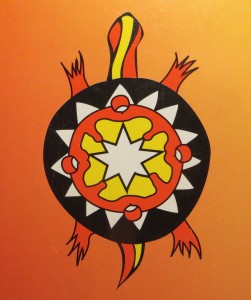 Keep the Circle Strong,
Albert "South Wind" Dumont.
Were you at the Event on Saturday? Please post your comments here!
* "Snye" is a great Canadian word that isn't used much these days. It is a channel that has been cut-off from the main river, tends to have stagnant, low oxygen water, and has quite the stench! Endless fun for boys and dogs.