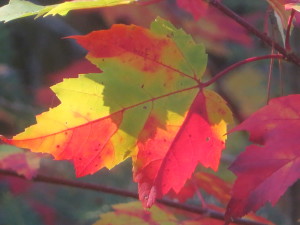 Of the four seasons, autumn is the one you should closely examine if you wish to discover soul searching teachings, most of which touch on the emotional health of human beings. Beauty and grandness are at the forefront of the season's life but towards its last moments of life, we find the heaviness of loss, seeking to find a place in the human heart. We find also sleepless hours, in the haunting of a chilly night brought on because of forlorn feelings which seem to overwhelm us when we least expect it. We ask ourselves, from where did all of this originate? Who or what was it which placed these feelings at the entranceway of our circle? As prepared as we might feel we are for it, we must accept that autumn truly is unpredictable.
Have you ever placed your bare feet on the soft carpet of leaves covering a forest trail after the leaves have detached themselves from the maple, oak, poplar and other leaf-bearing trees? To do so is a spiritual medicine for you to benefit from. It is also an experience of sheer physical joy.
I have felt oak leaves glance off my face after a late October breeze had finally removed the last stubborn leaves from the grip of the tree's powerful branches. I have gone into deep spiritual meditation standing on the moss-covered rock, white pine trees by my side, overlooking Bitobi Lake. I have sat in the centre of my forest fasting circle at the time of the Moon of the Falling Leaves, pondering my purpose of life. These things are mine to do and experience. Why? Because I am a human being. Life is as a tree with many branches, some are short, some are long, some are damaged, all of them play a role in the measure of the tree's grandness as seen by the eyes of the eagle.
The Whitefish Moon (September/October) will bring a stirring in the waters of Bitobi Lake and many other lakes on Great Turtle Island. The Whitefish and Lake Trout are now spawning. These are fish who prefer to live where water is cold and deep. In the dark depths of a lake like Temagami (over 300 ft. deep) the Whitefish glitter like living, breathing diamonds, as they move from one place to the next in their great domain.
Autumn, I look forward to it. As it grows older, the more it produces healing medicines for me. I go off the beaten path after the leaves are gone from the trees. This in itself is an action rich in spiritual significance.
The spirit of a human being sometimes needs time to adapt to this extraordinary time which arrives before the cold moons of winter begin. On October 5 from 9 to 11 am, I will be presenting an Algonquin perspective on autumn, its truth and its wisdom. Join me in the Great Hall of Christ Church Cathedral (414 Sparks St, Ottawa). I look forward to seeing you there. My books and greeting cards will be available for sale.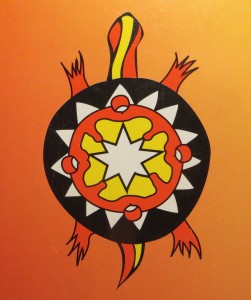 Keep the Circle Strong,
South Wind (Albert Dumont).