In Ottawa on December 7, after helping out with some union work, I slowly and solemnly made my way to North River Road park to put some tobacco down beside a white birch tree. I did so to shed some heaviness I was carrying in my heart. Soon thereafter, I stopped at a nearby Loblaws store to pick up the newspaper before heading back to Kitigan Zibi. After rolling to a stop on the west side of the Loblaws parking lot, I immediately became aware of the presence of many pigeons (approximately 50) in a holly berry tree only a few short feet from where I was parked. I emerged from my Jeep and marvelled at how the small tree seemed to be pulsing with life, an illusion brought forth by the gentle nibbling of the birds feasting on the berries.
Suddenly, without warning, the pigeons rushed towards me. It was obvious to me that they were in a state of great panic. Their beating wings drummed furiously sending tiny feathers tumbling to the ground. Most of the out-of-control pigeons were only inches from the top of my head. And because of it, the energy they produced spiritually engulfed me, sending an electric-like current throughout my being. The sensation was so great, it seemed to me that I was going to topple over onto my back. Though the wind was taken out of me, I was able to see that a flash of swirling brown was moving in the midst of a blue, grey and mauve wave, created by the swiftly moving pigeons.
My eyes were locked on the brown streak until it crashed onto the pavement less than 10 feet from where I was standing. I could see then that it was a fine hawk which had brought a pigeon down and was now squeezing the last seconds of life out of the helpless smaller bird with its mighty talons. The hawk turned to look at me. "Are you going to interfere with my right to feast?" he seemed to inquire. "No not me," I said out loud. "Bon appetit!"
The hawk began to pluck one down feather after the other from the pigeon's breast. Every 2 or 3 seconds he stopped, to look at me to confirm that I wasn't moving closer to his feasting table or doing something else threatening to him in any way. A crow, however, descended from the sky and swooped twice over the hawk's head, no doubt letting all things know that he was claiming the leftovers. But the magnificent hawk totally ignored him. I stood sentry on behalf of the hawk to ward off, if I had to, any vehicle entering the lot that might not see him and run him down. Eventually, the hawk, having assured himself that his well-earned, ready-to-eat meal had no life left in it, flew off with his prey to go and consume it at, perhaps, a more romantic setting. The crow followed along. "A match made in heaven," I thought.
There is something of enormous spiritual significance to this story that might be of interest to you. I shall share it now!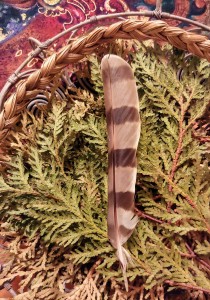 The hawk who dove from a sunny sky to claim the life of an unsuspecting pigeon was the same species of raptor which I found lying dead just before a ceremony began at Victoria Island over a year ago. The body of the bird was warm, rigour was far from setting in. It was assumed by the people who had come to participate in the ceremony that the hawk had been caught in the winds of one of the tornadoes which destroyed many dwellings along the Ottawa River a couple of days previous to our gathering. We guessed that the bird of prey had been severely injured by the storm and somehow ended up on the island where it passed away a few short feet from where the ceremonial circle would take place.
The people participating in the ceremony thought it was fitting to invite the spirit of the great bird to take its place in our circle. We did so and the ceremony went well, as we had hoped. We pulled feathers from the bird and all who wanted one took it into their care, so it could become part of the bundle held sacred to them. I have one of the feathers here in my home. Tobacco was offered, a grave was dug and the hawk was laid to rest in a good way.
I do not think it's outrageous to believe that the raptor who claimed his feast in the parking lot near where I stood is the same bird whose spirit was called into the circle by human beings over a year ago. He returned to say, "I'm here, I have fared well. I survived and I have come to feast the strength you place into your heart to survive grief and heartache!" What I experienced was not a coincidence. It's just how spirit works!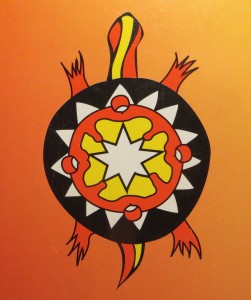 Keep the Circle Strong,
South Wind (Albert Dumont).