Years went by
And the little girl's love of clouds
Grew stronger with each passing day
"They are islands" she said
"Carried by the winds
They have seen the oceans
And they have smelled the pines"
(from one of my short stories featured in Broad Winged Hawk, 2007)
We have forgotten the songs our ancestors sung while standing in a sacred circle in honour of the gentle clouds dotting the sky over the prairies, mountains, forests and waters of our homelands. It is sad that our teachers no longer tell us of the goodness clouds contribute, not only to our health, but also to that of all things which surround us. The eagle soars high, to be ever nearer to them, so important are clouds to all who live beneath them and who are touched by their shadows.
Mino-Manidò, the good spirit, has designed each cloud to bring health to something on the land. Such clouds are medicine. They traverse the blue sky – so slowly, one can feel their softness, at least in the spiritual sense. "Accept our prayer for peace and goodwill to all," we should cry out to them as they pass and then make a humble request that the clouds will take our prayer to whomever it is who hears our words in the Land of Souls.
Clouds are great teachers. They speak of sharing and tolerance. They speak of the importance of touch and respect, and of holding on to something sacred until the right time has arrived to share it.
I have seen clouds the colour of cotton, of charcoal, and of steel. I have seen them painted yellow, red and purple by the sun. My heart has swollen with the passion clouds have placed into it. Clouds have helped me grow in my spirituality. I will be eternally grateful to them for this.
I recall a woman who was living in a state of severe depression. She told me she had nothing to look forward to and that her life was without purpose. I did not know what to tell her until I looked into the sky that day. The heavens were filled with massive clouds. They had been removed from a giant bowl in a wigwam in the spirit land. They had been kneaded by the touch of the good spirit and released into the sky to do their healing work.
Such clouds had never appeared in any sky on any day at any time of the million years Mother Earth has been here. And such clouds will never decorate any sky ever again for however long life lasts here on earth. But the same can be said of all cloud-filled skies. We are fortunate and blessed to see something to look forward to and wonder about. It is something to sing in honour of.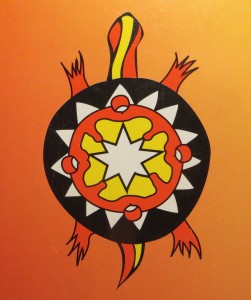 Keep the Circle Strong,
Albert "South Wind" Dumont.