JoAnn Daniels Gaaminjiminang ojijaakowin (Holds on to her Spirit) was born 63 years ago at a time when a blanket of great beauty and colour covered the land. The autumn blanket sewn by one of the season's grandmother moons, must have touched baby JoAnn in a magical way, and blessed her with a rare physical beauty, so stunning she was as a full-blooded Ojibway woman.
JoAnn was an artist who worked with hides and beads. She was meticulous in her craft. Each and every bead her fingers touched had to be placed, ever so perfectly next to one pre-selected from a cup of hundreds, waiting to give the creation life. "Life" is indeed what such artwork is capable of. Its power can reach into the soul of an assimilated First Peoples' individual and push him/her to rediscover a lost heritage. JoAnn knew this.
In the last weeks of her life, JoAnn the mother, sister, aunt, friend, and artist was not afraid of death. "I only wish I had another year," she said, "so I could do a few things differently." What those "things" were, are known only to JoAnn and perhaps to her closest relatives.
Shortly before she died, an elder acquainted with JoAnn was driving along a country road. JoAnn suddenly appeared in his mind. With her still in his thoughts he observed a small hawk leaving a roadside field. It struggled against the wind to do so. The hawk held something in its claws, a stick perhaps for a nest or maybe a small rodent, the elder wasn't sure. The hawk, though experiencing great difficulty climbing the windy sky did not release what it was holding, so precious the item was to its survival.
Gaaminjiminang ojijaakowin "Holds on to her Spirit" passed away a few days later at dawn. What can be accurately said of any dawn is that no living thing on this earth knows with all certainty what shape its health will be in when the sun of that particular day sets. No man, animal, bird, fish, mountain or leaf knows for sure. The rising sun brings wonder and mystery. "Holds on to her Spirit" chose the dawn to take the hands of her pre-deceased mother and father and go with them to the Land of Souls. Like the small hawk who struggled to climb the sky, she had struggled through life, making the best of being raised by parents who had survived many abuses and traumas at Residential Schools. She fought the winds without ever letting go of her grace, charm, dignity and the passion she had for the health and well-being of her family.
Her sons can tell their children that "Holds on to her Spirit", their loving Kokom (grandmother) left the hardships of this world when sweet blossoms covered the branches of fruit trees and May flowers stood scattered through the marshy forests of their territory.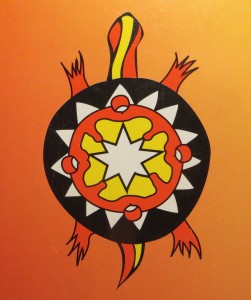 Keep the Circle Strong,
Albert "South Wind" Dumont.
Donations to the Wabano Centre for Aboriginal Health (299 Montreal Rd., Ottawa K1L 6B8) can be made in JoAnn's memory.