There are many reasons why a woman like Verna Polson was elected by Algonquin leaders to be the Grand Chief of the Algonquin Anishinabeg Nation. Verna possesses all the major characteristics which define the perfect Chief. She is strong willed, strong in spirit, dedicated, determined and yes, most of all, truly honourable. Whatever the reasons were that motivated Verna Polson to take the stand she did (living on a City of Ottawa sidewalk in a wigwam for 13 days, the last 40 hours of which she went without food and water) have increased now by 10%, no, 20%, no, 100%.
Verna Polson is a greater Chief today because of the hardships she experienced on a noisy sidewalk in Canada's capital city. If Verna was regarded as a grassroots Chief before she sacrificed so much, then the Anishinabe say, she is more so now, even to a degree which cannot be measured on the scale the human heart places onto all of us. The People respect her and admire her. She is a hero!
The miseries which fell on her over the 13 days at her wigwam protest are now behind her. The little birchbark lodge she lived in is a grander and more eloquent symbol of kindness, peace, love and solidarity with all life than the Parliament Buildings across the street from it ever will be. The Algonquin Nation is no longer invisible. The passenger seat is no longer a place we will settle for. From now on we take the driver's seat. Thank you, Verna Polson.
Many were present, grassroots and leaders of all stripes alike, proudly in a circle created to honour our Grand Chief. All spoke eloquently and compassionately, reassuring Verna Polson that they have her back. We are unsure of how successful the Grand Chief's protest was, time will tell. We are very sure, however, that the light, spirit and energy of the fire Grand Chief Verna Polson ignited on the sidewalk at 100 Wellington Street will grow in size. It will in time, brightly illuminate the pathways the Algonquins of the future will walk on, taking them once again to that place of greatness we knew long ago, when our wigwams and long houses filled all the rich places of our grand territory.
Verna Polson has reminded us that our People do not back up. We will do what needs to be done for our future generations. May Creator bless her and keep her well.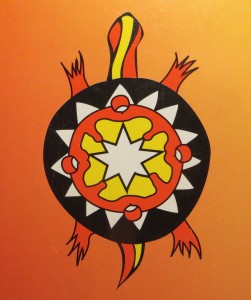 Keep the Circle Strong,
South Wind (Albert Dumont).