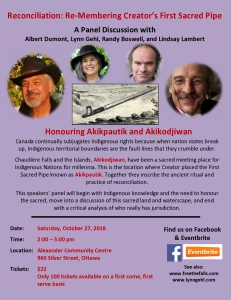 Kwey Dear Readers,
Just a couple of things. I'll be at Iskotew Lodge on October 11. Also, I humbly request that you do your best to attend the panel discussion Reconciliation: Re-Membering Creator's First Sacred Pipe on October 27th. See the poster and note that this event is a fundraiser for the Free The Falls group.
I have a lot to be thankful for. Each and every dawn, for many years now, I offer a prayer of gratitude to Creator for all the blessings we find around us no matter where we turn: water, fire, the land, the wind, and all other sacredness which give us life. I am grateful for the love of my children and grandchildren. I hold in my heart a special place for human rights activists and for all my dearest friends and confidants. I am grateful to elders such as Gray Fawn (Jane Ann Chartrand) and Lame Buffalo (Bobby Woods). I am grateful that I do not live in a country where an outrageous individual like Donald Trump can become its president.
Have you ever watched the movie "It's a Wonderful Life"? Jimmy Stewart and his family and friends represent to me, who it is that Americans wish to become. Mr. Potter, the ruthless, vicious businessman is who Trump hopes the people of the United States will become. The choice: a 'wonderful' life or one which leaves you with no chance for spiritual reward after you leave this worldly life.
Thanksgiving is my dearest feasting time! I live with chronic pain which seems to get worse and worse as the seasons roll along. I will never cry into a pillow because of it nor will I condemn Creator for the agony I endure. All I can say is that I am grateful to have a life. I am not in a wheelchair (not yet anyway). I will never let pain or anything else stop me from contributing to the emotional and spiritual wellness of my family, community, and nation.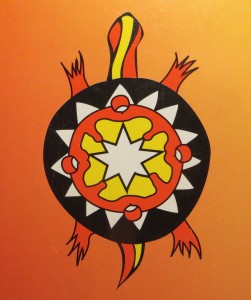 All the best,
South Wind (Albert Dumont)