The Sweet Traits Of Our Teenage Girls
dedicated to Maisy and Shannon (who disappeared in 2008)
A pearl, a girl
A wind that whirls
Talk of love, of a dove
Of God up above
Teddy bears, country fairs
Doing things on a dare
Giggles and wiggles
And twinkles in the eye
A sigh, a good cry
A song about "What's wrong!"
A circle in which to belong
A friend to the end
A shield that never bends
A plan for a clan
A wife and her man
Wonder about blunders
And things that cast a soul asunder
Pow wow dancing, models prancing
Handsome boys glancing
Enter the evil
Our greatest fear
Our girls disappear
Damn those evil men for their lust
They have broken humanity's trust
And left
Our lives broken
Our spirits shattered
Our hearts hollow
The sweet traits of teenage girls – I know them so very well! I am blessed to be the father of daughters and the grandfather of granddaughters. No sons or grandsons to be seen in this neck of the woods. Many times it seems, I have watched girls emerge from the whirlwind of teen years and land on that minuscule circle of bubbling earth on which only strong and confident women take their first steps as leaders. Our women are regaining their power. I am happy for them and joyful, too, for our communities will benefit greatly because it is so.
My daughters and granddaughters are superbly intact with health and vigor. They are destined to leave their mark, their unique imprint on the soul of the land. The realization of their dreams. I know they will do it.
But I worry about my girls. My hope for them is as great as the hope all parents and grandparents have for the women and girls in their families, that being, they will live long, healthy, happy lives. What causes worry for me is the fact that a great number of our Aboriginal women and girls are murdered or disappear each year in this country, now known as Canada. We want our womenfolk to be safe.
There is only so much we can do to protect them but it is a lot if we do it right. It begins with showing girls respect right from the time they emerge from the womb. And then we back up that respect with unconditional love each and every day of their lives.
If my teenage girls were to suddenly disappear from my life, a shroud, heavy with the stones of despair would fall over my shoulders. It would cling to me as bark does to a tree. Even the most spectacular dawn could not pull it free. My heart would feel, each hour of every day, as if the nails of sorrow were piercing it over and over again. A right lost to me if my girls vanished would be my right to hold them in my arms, to reassure them and to grant them counsels empowered to heal through the strength of my own life's experiences.
If evil men stole my girls away from the sanctuary I helped to construct for them, my soul would thereafter suffer a crucification each of my waking hours. My sleep time would be only a time of calling out their names and of the shedding of my tears.
But because you are there, my family, my friends, my community, the healing circle, I would somehow find the strength to carry on.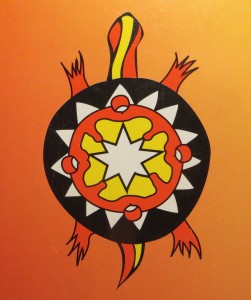 Keep the Circle Strong,
Albert "South Wind" Dumont.
Please note: October 4th is the 3rd Annual Families of Sisters in Spirit Vigil 2013. It starts at 6pm at the Human Rights Monument on Elgin at Lisgar. If you are in Ottawa, please attend to show that Aboriginal women and girls are loved and valued.