I sometimes feel an ache in the centre of my heart. It is not because of blood trying to squeeze itself through arteries clogged by the over-abundance of fat in my diet that the pain shows itself!
The ache in my heart is born when I experience negative emotional interaction with people who, I believe, would if they could, remove the sun from the sky and hide it in a cave to be held prisoner there by them until the rest of us saw the world through their own narrow-minded lenses.
Recently, I responded to a reader's comment on my blog "The Kettle of Boiling Waters", who demanded that I stop 'claiming' this region as Algonquin territory. According to him, what I was saying was 'fictitious'. Then another reader jumped in to say she had a 'huge problem' with me 'claiming' to be an 'elder' and pushing forward 'the European His-story'.
I want to make it as clear as the waters of the many pristine springs deep in the hills of my ancestral homeland that I am not 'her' elder, and never did I say I was. In fact, I never set out to be known as an elder! If there is an individual living in my homeland who regards me as an 'elder' then I will do my utmost to be this for you when you approach me with tobacco and make a request of me. I, as a human being who has reached the winter of his years, will be duty-bound to help you overcome a crisis impacting you emotionally and spiritually to the best of my ability. To those who do 'not' regard me as such, Godspeed to you. I wish you well just the same as you move to conquer the demons which trouble you.
The reader in her criticism of my blog also attacked my Chief, Gilbert Whiteduck, as an 'employee of the Federal Government' who is 'dividing' the people.
It really does bring a big ache into my heart to read her words. Chief Whiteduck is an honorable man. I have never known anyone in all my life who does not define the word "honour" stronger than he. My Chief works for the people of this territory. The original inhabitants, whether they are human, bird, animal or fish, whether they are the waters of our rivers and lakes or the grand trees, the Chief speaks for all when confronting the governments about the 'rights' all have to live and thrive within the boundaries of our ancestral lands. There are so many people in this area who despise Chief Whiteduck and who wish he really was 'an employee of the Government of Canada'. If he were, they could fire him and he would no longer exist as a thorn in the side of governments who work to exterminate our rights as First Peoples. They then would feel free to continue to rape the land unopposed until nothing is left. If all chiefs in Canada were as committed and dedicated to 'truth' and rights as Chief Whiteduck is, everyone and all things would benefit and Canada would truly be a beacon of light all other countries could look to for guidance.
I have heard Mr. Jason Arbour speak of his belief that this region is Mohawk territory. I do not believe it is. This region is not only Algonquin land but further to this, it is a place of great spiritual significance to us (Algonquins) as well. I have never demanded that Mr. Arbour 'stop' claiming this territory as his own as he did to me in his response to my blog. In my opinion, his words to me were neither graceful nor honourable. Mr. Arbour can claim the land as his own if he wants. I however, reserve the right to disagree with him in a respectful way.
To make quarrel over this is foolish. Can we not just join hands in a circle and together give thanks that we live here in this wonderful place of healing and prosperity?
Mr. Arbour and Ms. Duchene and anyone else are welcome to pay homage to the land as Mohawks. Nobody will attempt to stop them! In turn leave us (the Algonquins) in peace to do the same in our own way.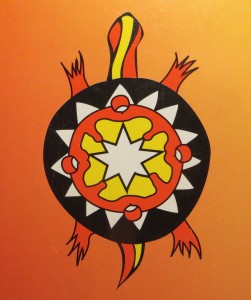 Keep the Circle Strong,
South Wind.
Note: A friendly reminder that there is a policy on comments on this blog. Migwech!