What a miserable season it must be in the life of a human being to have to sit, through the use of force, hour after hour, day after day, week after week, month after month in the same spot with absolutely nothing to do. Imagine as days and weeks pass, not even being able to look forward to washing your body under the water of a bath or shower. Such has been life for Marlene Carter since last October. Her only crime is having the misfortune to be stricken with a mental illness brought down on her because of the unspeakable traumas of her past. The people inflicting 'seclusion' on Marlene would likely tell us that they have 'sound' reasons for doing so. But where is the common sense or the humanity in placing her in a small (8' x 10') room, without TV or radio, no right to tea or coffee, no smudging or one-on-one counsels with her spiritual advisor, for months on end. Why do they not understand that seclusion for long periods of time is something guaranteed to build rage? Where would their breaking point be if they, themselves, had to endure it?
I worry that if these human rights abuses continue, Marlene will be driven to the point of no return so far as her mental health is concerned. There certainly will arrive a time when her mind will no longer be able to tolerate what is happening to it and crumble under the abuse. We cannot allow this to happen. We need to rally in support of Marlene before it's too late. She deserves a chance to have a life worth living.
Marlene's favourite song is 'Rebel Yell' by Billy Idol. There is a line in the song that tells it all about Marlene Carter. The words of the song say, "She don't like slavery, she won't sit and beg." Marlene will never under any circumstances 'beg' any authority in the physical domain for anything and because she refuses to do so doesn't mean she is unfit to enjoy the human rights the rest of us take for granted.
I wrote the poem 'Voices' for Marlene after she had begun healing because of getting brief access to the outdoors after many years of not being allowed outside.
Voices
Inspired by and dedicated to Marlene Carter
by Albert Dumont ©
The voices
Of birds, rapids and leaves
The songs
Of spirits emitting from the land
The whispers of ancestors
Promising, love for you will never die
These voices
Call to you, to be at peace
And to extend lovingly, a gentle hand
Surround yourself with their healing, wrapped
In a blanket lifted from the earth
Made of your birth season's medicines
And those voices from the dark
Which call to you
To bring forth rage and mistrust
Banish them forever from your mind
Your prayers are strong, dance spiritually
With them in Creator's love
Your drumbeat and soul
Now gentle as a baby's heart
You stand in beauty, with the voices
Of birds, rapids and leaves
The protest on the 11th of February, beginning at 10 a.m., is about stopping 'seclusion', not just against Marlene Carter, but stopping it from being used against any Canadian regardless of their cultural background. Take the time to stand with us. Let's make the world a better place.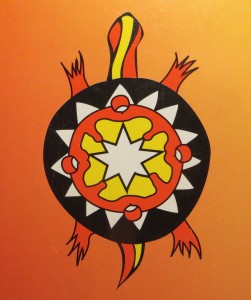 Keep the Circle Strong,
Albert 'South Wind' Dumont