Over 200 good and compassionate people walked in spiritual solidarity with Jane Chartrand (Algonquin, Pikwakanagan) and I, Albert Dumont (Algonquin, Kitigan Zibi), on Friday, June 22, 2018. The walk was a special event. I truly believe that the blossoms of reconciliation have a chance of blooming once again at sacred Akikodjiwan because of it. Together, and alive like a moving, pulsing circle, people of non-indigenous bloodlines who trust in faith, spirituality and religion stood with Algonquins to defend the right Indigenous spirituality has to exist.
The sky was blue, Grandfather Sun shone down and touched human skin with his warmth and magnificent energy. The breeze was gentle and at Victoria Island, the birds were singing as we began our walk to Parliament Hill. Gifted orators, clergy from churches and mosques and other guests brought their powerful messages of peace and harmony into the Anishinabe circle. We stood as one, around the drum. June 22nd was a good day to be alive and to be an activist.
I am a man of faith. I believe in a caring, loving and honourable Creator. The spiritual confidence I have in the circle and in the things of my sacred bundle is something I have in common with all my relations who came before me at a time long ago, when only the First Peoples lived on these resource-rich lands.
The 'Spirituality is Unity' walk of June 22 was one the Algonquins and their true supporters planned for many months. It was hoped by its organizers that the walk would be supported by many of the people of Indigenous bloodlines who live and thrive on the traditional lands of the Algonquin Anishinabe but whose home communities are from both neighbouring or far away nations. We also called on the region's faith leaders to walk alongside of us in solidarity with our cause of defending the ancient sacred place of water and rock, beloved by the late Algonquin elder, William Commanda.
A couple of years ago, a troubled young man went into the night and painted swastikas on churches, mosques and temples. The faith leaders of the region at that time gathered in front of cameras and in one voice, condemned the desecration of their holy places. "An attack on one faith," declared Rabbi Reuven Bulka, "is an attack on all faiths." And with that the faith leaders promised to do everything possible in protecting all houses of worship from further assaults.
A swastika is what it is. It symbolizes cruelty, hatred, oppression and death. All righteous people emotionally and spiritually cringe at the sight of it. But in this world of dollars and gold, a swastika can come in many shapes and forms. The holy place of the Algonquin Anishinabe, perhaps known to you as Chaudière Falls and its islands, and known to the Anishinabe as Akikodjiwan, is under threat of being forever spiritually lost to us. And lost to everyone, too, as parkland and greenspace. A swastika in the shape of condos and buildings of commerce is being readied for placement at our ancient sacred site.
For the June 22, 2018 walk we called on the faith leaders who, only months ago, boldly stood in front of cameras condemning the desecration of their holy places to join us behind the words, "An attack on one faith is an attack on all faiths."
Two of the prominent faith leaders we invited declined our invitation. The faith leaders we asked to attend the peaceful walk and to speak on behalf of their religion on Parliament Hill chose, in the end, to not support the 'Spirituality is Unity' walk. What does this tell us? What happened to "An attack on one faith"?!! Have these faith leaders been convinced by malicious forces that Indigenous spirituality is not a spirituality after all? Or have they decided, in all their spiritual wisdom, that Akikodjiwan is just not worth standing up for? Do they fear that supporting the walk would be offending a person they regard as a friend or offending a person of wealth?
These leaders need to understand that Indigenous spirituality was here in Algonquin Anishinabe territory for thousands of years before their religion or other faiths ever even arrived on our lands. If any faith or spirituality should be shielded and protected, tooth and claw, from desecration and harm in this country, it should be Indigenous spirituality. Any faith leader who doesn't see it as such is spiritually warped.
The people of Canada and their governments outlawed Indigenous Spirituality in the past. Today we work to bring it back again in its purest ways, as it was long ago. The faith beliefs of immigrant religions are not greater than are the beliefs found in the circle of Indigenous Spirituality. The faith leaders who did not support the 'Spirituality is Unity' walk made a bad mistake (a great sin) in the eyes of Creator. But in this world of dollars and gold such mistakes are made far too often than they should be. And sorrowfully, they are sometimes made by people who should know better. Will they admit it? Time will tell.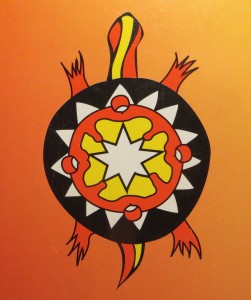 Keep the Circle Strong,
South Wind (Albert Dumont)