The small Christian church at Kitigan Zibi (Algonquin unceded territory, QC) is the pride of many residents of this Anishinabeg community, 135 km north of Ottawa on Highway 105. Many a wedding and baptism ceremony have occurred there over the passage of the church's years on our reserve. My parents had their funeral masses held there. It was for them, in life, a sacred place.
Though I myself am not a Christian, I would do all possible to save the little church should anyone ever threaten her existence.
If someone, for example, entered our community and said, "I have been given authority by the government to remove this church from its very foundation, board by board, pew by pew. And upon the place where it once stood, I will build condos where only the very rich will live. To pacify you, I will create jobs for your community until the condos are built."
I'm well aware that no one would dare support such a thing at Kitigan Zibi. If they tried, a great protest would arise. I would stand in solidarity with the people protesting the destruction of a sacred place, even to the point of risking the spilling of my own blood to save the church. I am not a Christian, but I stand behind Rabbi Bulka's words, "An attack on one faith is an attack on all faiths."
An ancient place of prayer and ceremony within the perimeters of the homeland of the Algonquin Anishinabe is under threat of being destroyed by a developer. There was a time in the past when "Akikodjiwan," as it is called by Algonquins north of K.Z., or "Asinabka" as it was called by the late William Commanda, served the People so well that we were always spiritually at peace because of its existence. It is truly heart-wrenching and frightening to think that Akikodjiwan will become a place of condos and commerce if the developers, Windmill and Dream, get their way. Whatever your spiritual beliefs are, if you feel that Indigenous spirituality is worth preserving, we call on you to stand as one with us.
Remember that when only Indigenous spirituality existed here on our traditional lands, the People went, in an honourable and humble way, to places like Akikodjiwan. They requested guidance in their thoughts and healing for any negative deeds they perpetrated. There was no need for prisons at that time, nor were there the things of addictions to sink our People. There was no suicide epidemic! Our Indigenous spirituality was given to the First Peoples by Creator to honour and respect all life, especially that of water. It was beautiful and powerful. This is why our spirituality was outlawed by the colonizers who feared it and knew that with our spiritual beliefs intact, we as a people would never be controlled nor manipulated by anyone.
On June 22nd, at Victoria Island, let us meet and walk in peace and solidarity to Parliament Hill. Together, we will tell all Canadians that Akikodjiwan can and should become greenspace, parkland and a place of sacredness for all of us to benefit from.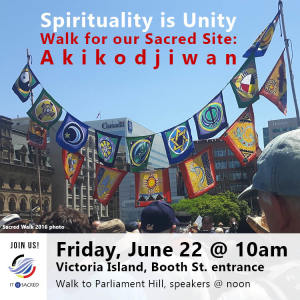 Click here for more information about the walk.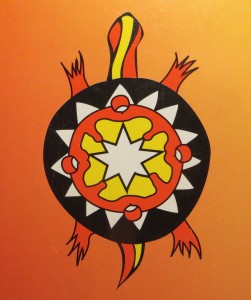 Keep the Circle Strong,
South Wind (Albert Dumont)
PS – Please promote the walk on FB and here is my latest Newsletter you can share.